SALESFORCE SOFIA BULGARIA USERS GROUP - A TRAILBLAZER COMMUNITY
Salesforce Administrators Group brings together visionary Salesforce executives and practitioners in Sofia, Bulgaria. Group events are focused on sharing best practices and configuration challenges, sharing expertise and presenting case studies, in addition to professional development and peer-to-peer networking opportunities. The Group's meetings are monthly, first one being on 12 September, 2018.
The Trailblazer Sofia BG Administrators Group is led by our experienced Salesforce practice leader: Levent Korkmaz with his 12 years of experience in commercial and non-profit implementations, and Salesforce capability building as a coach and trainer.
JOIN THE GROUP TO LEARN AND SHARE, TO RECOGNIZE AND BE RECOGNIZED
Special thanks to our community leaders, companies that are intensive users of Salesforce and a great place to work for our community members:



Special thanks to our community sponsor: SoftServe

and to our favourite venue: Work & Share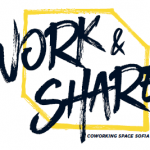 ARE YOU READY FOR DIGITAL EVOLUTION?