marketing cloud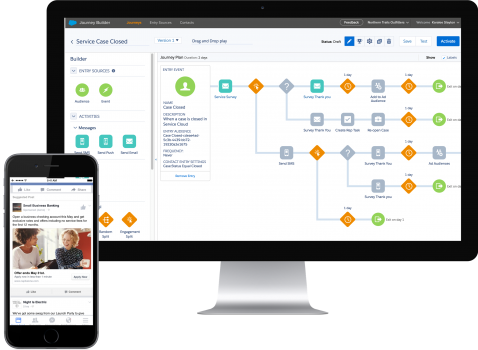 BUILD & AUTOMATE
1-TO-1 CUSTOMER JOURNEYS
ACROSS THE ENTIRE LIFECYCLE
Marketing Cloud is the next-level marketing automation platform you need to scale your operations and enable Marketing, Sales and Service teams work in-sync and drive high customer satisfaction. Working together your teams will display, sell and support the products and service each of your customers need, whenever they need it.
With Marketing Cloud you have an extensive information of how your visitors, leads and customers are behaving. From a powerful automation platform you create in-depth segments and store detailed information, send emails and push-notifications, show ads and guide customers through journeys, for up to 1 year. Your brand will be visible when prospects and customer need to see it.
Begital Marketing Cloud Consultants will enable you to fully digitalize and transform your organization and brands to face the clients during all "moments of truth".
Marketing Cloud and Begital will provide your customers with the same 1-to-1 experience as they receive in your premises. We build interactive and tailored customer journeys to all your segments on desktop, mobile and the social channels they use across the entire customer lifecycle.
GO FROM
WHERE YOU ARE
TO WHERE YOU WANT TO BE